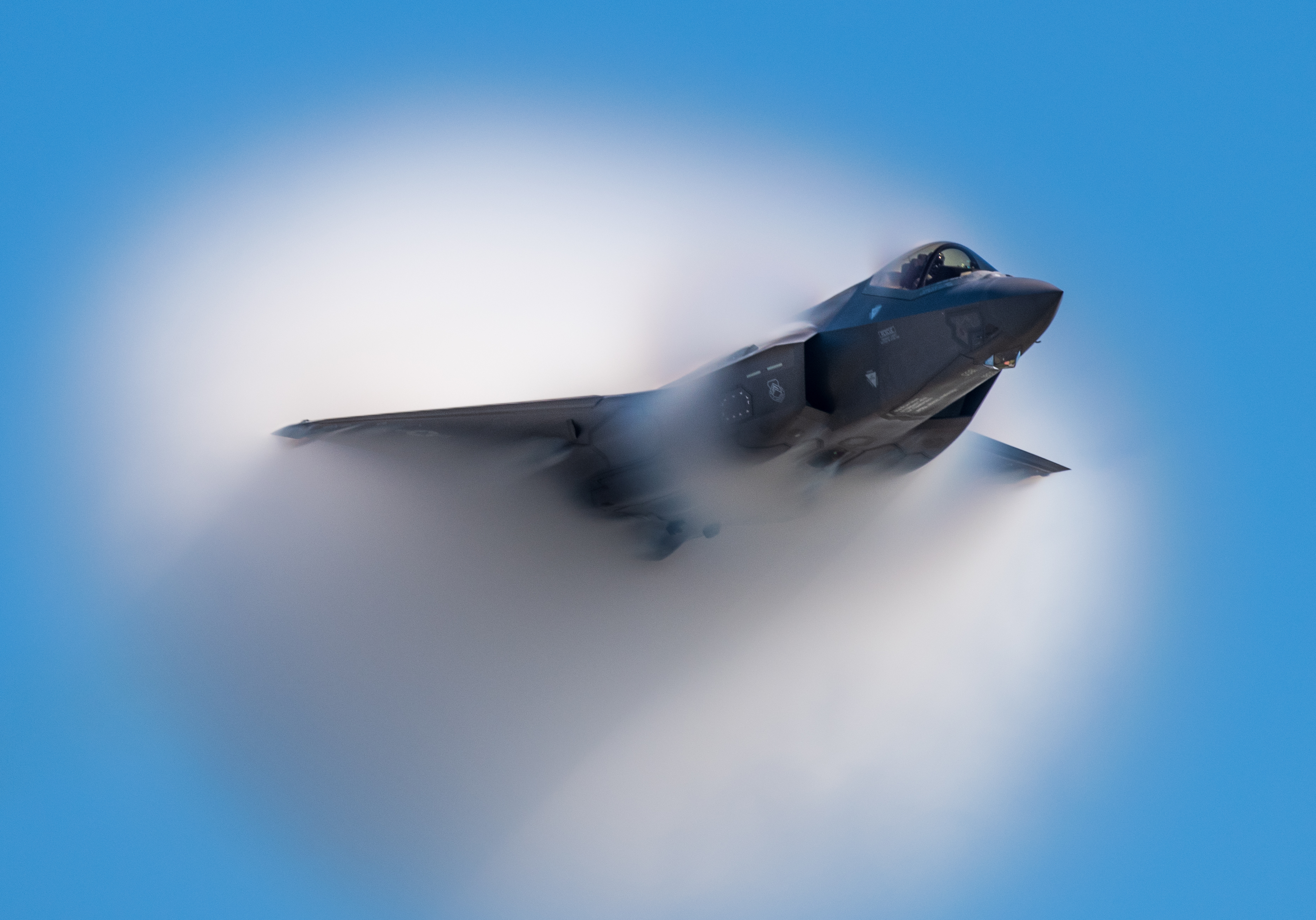 F-35A LIGHTNING II DEMONSTRATION TEAM
For the first time ever the country's newest fighter jet will take to the skies of the Reno Air Races. Fans will see America's Airmen display the skill, capabilities and technology of the F-35A Lightning II.
The F-35A is the world's most advanced multirole stealth fighter, boasting 43,000 pounds of thrust reaching up to Mach 1.6 (about 1,200 mph). The demonstration profile will last approximately 18 minutes and feature the jet's extreme agility, speed and maneuverability.
The demonstration team is part of the 388th Fighter Wing out of Hill Air Force Base in Utah. The 388th Fighter Wing is currently the Air Force's first combat-ready operational F-35 wing in the service. The team is made up of approximately 15 Airmen, to include the pilot, wingmen, maintenance and public affairs Airmen.
---
TUCKER'S AIR PATROL
We're excited to announce the addition of Tucker's Air Patrol to our 2020 lineup. Pilot Eric Tucker's aviation performance is a throwback to the glory days of barnstorming. His aircraft was built in 1941 and designed in the late twenties.
Tucker will be performing two distinct acts. The first is an eight-minute Dead Stick Aerobatics Act, where he will intentionally halt the engine from a mile high in the sky, stop the propeller and glide safely to the ground. That's not the end of the first act though! While soaring through the air to the roar of the crowd he will also perform loops, rolls, spins and hammerheads. The second act is a 15-minute Comedy Act and Car-Top Landing, which you are going to have to see to believe.
Eric Tucker has flown in airshows across the world, in aircraft ranging from the J3 Cub to the Columbia 400. The J3 he currently flies is hard to miss with its bright yellow paint job sporting the logo of the STIHL National Championship Air Races' official sunglass sponsor, Method Seven.
---
JIM PEITZ AEROSPORTS
Jim Peitz Aerosports has officially been added to the exciting line-up of performers at this year's 2020 STIHL National Championship Air Races! Flying his CERTIFIED aerobatic Beechcraft F33C Bonanza, Jim delivers an amazing demonstration that will leave all who see it completely mesmerized! The specialized Bonanza is capable of a wide range of aerobatic maneuvers including loops, point rolls, barrel rolls, snap rolls, Cuban eights, and hammerheads.
Being the recipient of the most prestigious award in the airshow industry, the International Council of Airshows Sword of Excellence. Peitz has performed in a wide variety of airshow aircraft including eight years in a Christen Eagle, followed by a 14-year run in an Extra 300L, and now the F33C Beechcraft Bonanza for over 10 years. Peitz has previously performed at the National Championship Air Races including last year when he answered RARA's frantic call for help after weather forced two scheduled performers to cancel during race week.
Jim believes, "Aviation is one of the greatest freedoms we enjoy in this country," and we could not agree with him more! Come out and see Jim along with the rest of the performers at the 2020 STIHL National Championship Air Races!
---
TONY HIGA AIRSHOWS
Tony Higa was born and raised in Okinawa Japan. In 1979, he made his first trip to the United States in order to watch the National Championship Air Races. Just four years later Tony moved to the United States in order to pursue his dream of racing in the Reno Air Races, becoming an aerobatic airshow pilot and to build his dream airplane, which you see him flying today.
Tony is well recognized in his home country of Japan, and has appeared on television, radio and publications for his achievements in aviation. He has a large following in the Japanese media.
In 1996, he was the first Japanese pilot to compete at the Unlimited World Aerobatic Championships in Oklahoma in a Pitts S2B.
Tony made his racing debut in the prestigious Reno Air Races in 2003 and has competed yearly since his first race flying at speeds over 200 miles per hour. This year will be Tony's 18th consecutive year competing in Reno.
In 2016, Tony made an air show debut, Tony is also credentialed as an aerobatic pilot in a North American T6 Texan, SNJ & Harvard.
He would like to thank his sponsors and crews for supporting over the years and for helping him to achieve his dreams. Without them, it would not have been possible.
---
LIGHTNING FORMATION AIRSHOWS
Buckle up and get ready for Lightning Formation Airshows, a first for the STIHL National Championship Air Races. Lightning Formation Airshows, an eight-aircraft precision formation demonstration team, provides an exciting and fast-paced airshow. Accompanied by lots of color and lots of smoke, we're sure this is going to be one of the crowd favorites!
---
Boeing C17 Globemaster III Flyby
Powered by four Pratt & Whitney PW2020 engines, each with more than 40,000 pounds of thrust, the C-17 is appropriately nicknamed the "Globemaster III" for its capabilities in difficult terrain anywhere in the world. Built to carry heavy equipment, supplies and troops, this T-tailed military aircraft was first flown in 1991 with a full roll-out in 1995. The C-17 can takeoff from a 7,740-foot airfield and carry a payload of up to 164,900 pounds. With no payload, the C-17 can y 6,230 nautical miles and can refuel mid-flight. It is currently in use by the U.S. Air Force and in six other nations, including Great Britain, where it is used as an airborne hospital.
---
More excitement and performer announcements, COMING SOON!