If it feels like a while since the United States Air Force Thunderbirds have soared high above Reno, it's not just your imagination. After an absence of almost a decade, this famed precision drill team is slated to return for a pair of shows during the 56th annual STIHL National Championship Air Races to the delight of fans of all ages.
Featuring eight pilots and a staggering 130 support personnel, the Las Vegas-based Thunderbirds will take to their F-16 Fighting Falcons to perform impressive formation flying, daring solo routines and a display of capabilities that push the limits of both plane and pilot at every turn. Fans hoping to get a glimpse of the Thunderbirds' signature move, the four-jet diamond formation, won't be disappointed. They'll also be treated to 40 other crowd-pleasing maneuvers that have made this team a household name.
History of the Thunderbirds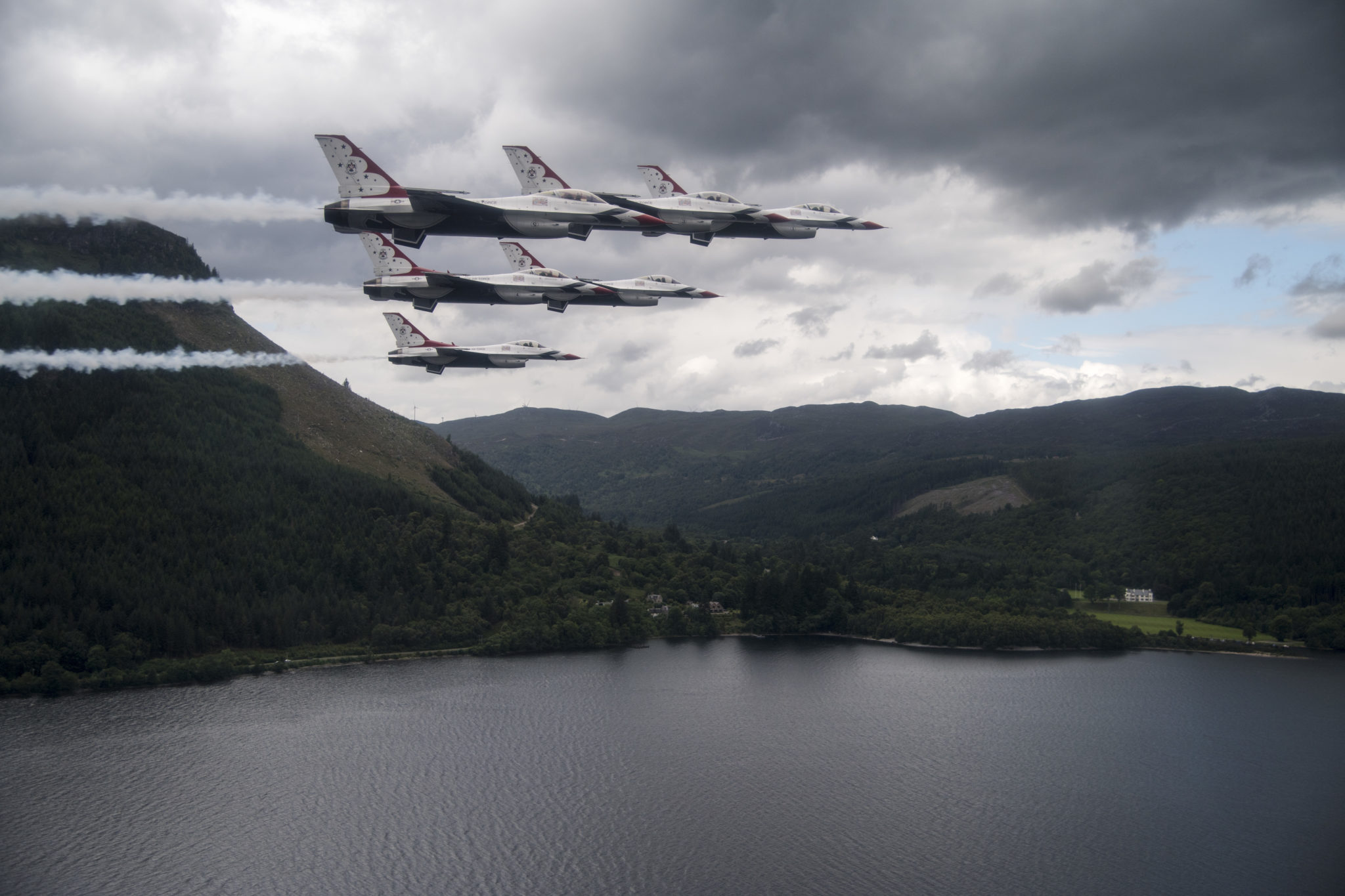 First formed in 1953 as part of the then-nascent United States Air Force, the first Thunderbirds team was originally based at Arizona's Luke AFB. The team's inception coincided with the rise of air shows in the States, most notably the National Air Races in Cleveland. By then, post-war America had developed a real taste for high-flying action and patriotic displays, especially as the Korean War was winding down.
In the beginning, the team flew Republic F-84G Thunderjets, Cold War-era turbojets with in-flight refueling capabilities and room for a nuclear payload. Although striking to look at, these aircraft topped out at 600 mph, and therefore fell just shy of being able to break the sound barrier. The Thunderbirds then traded up to F-84F Thunderstreaks in 1955. While the naming convention is similar to that of the F-84G, the Thunderstreak featured swept wings and spoilers for enhanced performance. It wasn't long, however, that the team moved to the supersonic North American F-100C Super Sabre jet, allowing its pilots to rattle the nerves of glass factory owners everywhere. This upgrade in 1956 also coincided with the team's move to Nellis AFB, just northwest of Las Vegas. By 1962, the team settled into the General Dynamics F-16A Fighting Falcon with the striking red, white and blue paint scheme for which it's known today.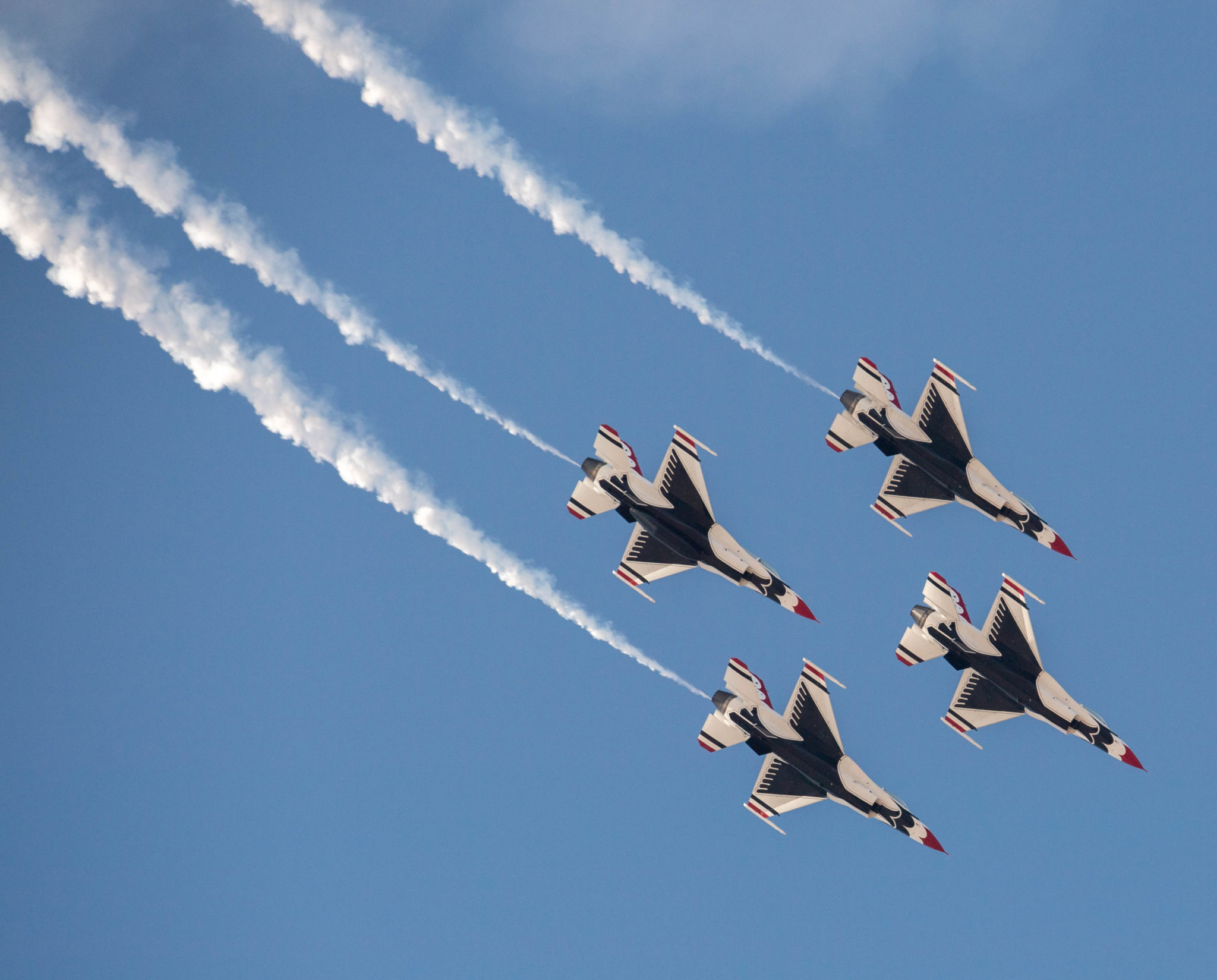 By 1997, the team celebrated its 50th anniversary having performed countless demonstrations for millions of air show attendees over the years. The striking image of the team's diamond formation against a crystal blue sky graced a U.S. postal stamp that same year. From 2007 to 2009 the Thunderbirds performed air shows in multiple countries and states during their many tours including Bulgaria, Ireland, Japan, France, Italy, Thailand, Hawaii, Romania, Poland, Australia and Puerto Rico. Its most recent performance at Reno was in 2008.
Needless to say, air racing fans and organizers are excited about the return of an American icon to Reno Stead Airport.
"They put on a spectacular show, displaying incredible flying skills and showcasing some of the most advanced fighters of our time," said Tony Logoteta, Reno Air Racing Association chief operating officer. "It's a thrill to see them in action and a privilege to be able to recognize the airmen and women who serve our country."
The Pilots
This year's Thunderbirds team represents a variety of diverse backgrounds including a figure skater, a college baseball player and a Medford, Oregon, native who is only the second solo female pilot in the team's history.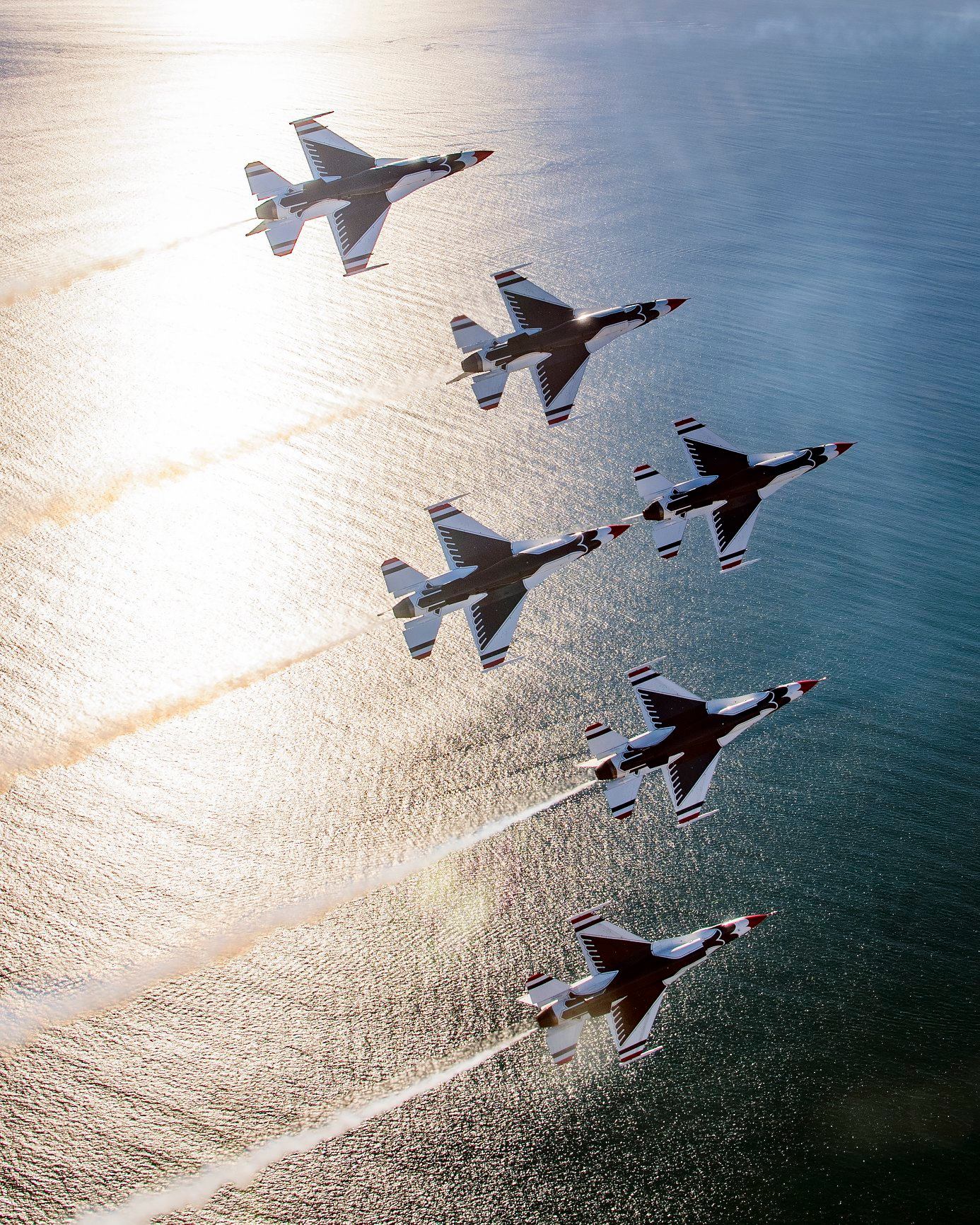 As the commander and leader, Lt. Colonel John Caldwell oversees the crew while commanding the entire 130-person operation. Major Will Graeff and Captain Michael Brewer serve as the left and right-wing pilots. Major Whit Collins, who was the former president of his high school's aviation program, serves in the slot pilot position. Going into his second and her first season with the team, Major Matt Kimmel and Captain Michelle Curran are lead solo pilot and opposing solo pilot, respectively. All the way from Saginaw, Michigan, Lt. Colonel Eric Gorney acts as the Operations Officer for the team, overseeing logistics. Arizona State University graduate Major Jason Markzon holds the position of Advance Pilot and narrator.
Performances are set for 2:50 p.m. Saturday and 2:35 p.m. Sunday, with a practice run on Friday afternoon. As always, schedules are subject to change based on weather and other factors.